what's new.
Coming early November!!  Skacel Hikoo's next new yarn, $27.00/100g/420 metres
YOUR NEW FAVORITE SOLID COLOUR SOCK YARN
Created in Peru with socks and shawls in mind yet overly versatile, HiKoo® Madrona is the new "it" yarn that you will absolutely devour!  With a perfectly curated blend of Baby Alpaca, Merino Wool, Bamboo, and Nylon, Madrona is an ideal fit for that new yarn you've been dreaming of!
Starting with an on-trend palette of 20 colors, each 100g cake is ready-to-knit with absolutely NO winding necessary (you're welcome)!  And best of all, the proprietary EasyWash treatment allows this yarn to go straight into the washing machine.
30% Baby Alpaca, 30% Merino Wool, 20% Bamboo Viscose, 20% Nylon
460 yards, 100 grams per cake
$27 per cake
Color #1401 (Natural Pearl) is also undyed, allowing for an extra level of creativity!  Interested in bulk bags of undyed Madrona for your own dyeing purposes?.
September 23/21.  We are still open 3 days a week, Tues. to Thurs. 10-5:30.  If you need something on the other days, call my cell 604-307-8402, and we can usually work something out, as we are usually 5 minutes away.   When you come into the store as of today, the first table is covered with many lovely yarns at 25% off!  Also you will find lots of kits to the right on the wall as you come in, plus on the back table. 
We are coming up to the holiday season and catching up with our gift knitting.  The 6 colours below of Punta Fuego, the blue on right is the darkest navy you will find and 180m of beautiful merino.
On top is Schoppel XL on left, Punta Merisoft on right, and Manos del Uruguay Franca superwash Merino in 2 greys and koi,  
We have lots of colours of the lovely bulky Hikoo Zumie, as shown below, 
And Schoppel's Form & Farbe, 100% Merino superwash, 7 Stitches to 4 inches!
And!  Drops Wish and Cloud, colours as seen below
Drops Cloud
I used Wish denim #09 in the Tiny Owls shrug pattern "Forest & Frill".  Genius pattern, so easy and can be made in nearly any weight yarn.  If you don't crochet, be sure to learn how so you can make this lovely shrug and wear for warmth when you are dressed up, will accent any garment well.  Okay, loved this, and was an easy knit and crochet, but I made mine extra long, and didn't look like I wanted, so I am now knitting the The Comfot Zone by Espacetricot, with this yarn, pictured on right. 
We received lots of Hikoo Kenzie, some colours we haven't had before.  Don't miss seeing this wonderful yarn, you can make anything you want with it, including warm, wonderful socks.  Has become a favourite of local knitters.  Check out the pattern support for this yarn on Ravelry, lots of knitters out there have enjoyed it.  Will put up a picture once I get it put on shelves, or have a look at the shadecard on skacelknitting.com.
Made in Hikoo Kenzie, simple, easy knitting and a design that would please any male!  Design by Kyle Kunecke, "Emmett" on Ravelry, XL and long is 10 balls.  This colour is no longer, we have a medium grey in quantity, if it is your fave, but in stock are about 16 colours of this very popular yarn.  There are many great patterns for this yarn on Ravelry.  Don't miss out on it!
September 1st, 2021.  We have been waiting seems forever for the Addi Express Kingsize knitting machine produced in Germany, and we have finally started receiving some.  Get in touch 604-275-1239, or long distance, 1-877-966-5945,  if you would like one of these machines which you can observe in action at skacelknitting.com.
Make sure you come in and check out the shipment from Sirdar USA finally receiving several colours of Hayfield Bonus Aran 400g for your blanket knitting and the popular Blossom dk for baby and child blankets and clothing, and the wonderful Rowan Felted Tweed in 8 colours to add to our stock!
July 7/21
and coming soon!
Admiral X Pro, From Schoppel, 420/100g, 75% GOTS Cerified New Wool, 25% biodegradable nylon
Alpaka Zauber, from Schoppel, 50% wool, 45% alpaca, 5% linen, 200m/100g, heathered gradient, slightly felted to prevent pilling, like many of their yarns

Zauberball Crazy Cotton Starke 4, Schoppel, 100% pure organic long stapled Greek Cotton, dk weight
Zitron Trekking, new self patterning colours coming.
New colours coming in Zauberwolle, Lace Ball 100 Zauberball 100, Reggae Ombre, Zauberball Crazy Starke 6, Edition 3, Gradient.
New colours in Popcycle by Hikoo coming soon!  
Made with recycled plastic bottles, see story at jamescoxknits.com
WE ALSO HAVE A BUNCH MORE OF THE DROPS BABY MERINO
And the wonderful line of Hikoo Sueno (Formerly Frog Tree Pediboo) merino, Bamboo and is now in a tweedy effect, starting with these colours.
And, a very textured Hikoo Bubble Tea, merino, acrylic and nylon.  Can't wait!  My current fave denimy look.  Started the cowl on right, will post a pic when done.  Twice as nice cowl in Hikoo Bubble tea, denim and Schoppel Zauberball Cotton Crazy.
WE ALSO HAVE STOCK OF COLOUR ADVENTURES DIA SOCK AND SWEET MERINO DK, JAMES BRETT MARBLE CHUNKY with 12 more colours coming,  Hayfield Bonus Aran with Wool (400g, 840m) of lovely blanket weight yarn) a ladies vest takes 1!  Punta Fuego in every colour new to us this 100% merino is produced in South America
 HANDMAIDEN WISP, DONEGAL TWEED, PAPATYA CAKE, Papatya Batik, DROPS KID SILK, ROWAN FELTED TWEED, SIRDAR SNUGGLY DK AND CROFTER, Drops Baby Merino, HAYFIELD BLOSSOM DK, lots of ESTELLE SUDZ DISHCLOTH YARN, AND SOME NORO SOCK & LACE.  We have put together lots of kits for those of you who were lucky enough to get our gift certificates for Christmas. 
  

We have all the Rowan Felted Tweed colours for this gorgeous Kaffe Fassett masterpiece cover of Vogue Knitting Late Winter 2020.  Order @ 604-275-1239 or tollfree long distance @ 1-877-966-5945.
We hope that shoppers are still interested in keeping their local businesses open, and that everyone who knits out there is not going to always order online.  This yarn shop owner loves to deal with customers and help them the best that I can, as a knitter of 60 years, and a yarn shop employee/owner for 38 years, I am addicted to your company!
You can see most of what we can supply you with at skacelknitting.com.  We can also ship any where for you!  We also have stock of colour adventures dia sock, James Brett Marble Chunky, Malabrigo Caracol, Handmaiden wisp, Donegal Tweed, Papatya Cake, drops Kid Silk and Baby Merino, Rowan Felted Tweed, Sirdar Snuggly dk and Crofter, Hayfield Blossom dk, Estelle Sudz Dishcloth Yarn, and some Noro Sock and Lace.
Colour Adventures hand dyed in Vernon, Dia Sock yumminess!                
Our new shipment of Colour Adventures Dia Sock came in!  Use for socks, shawls, 420 meters makes a fab baby
sweater.        
Colours are Aegean Sea, Arabian Nights, Birch Tree, Blackberry, Bonfire, Celadon, Dawn, Dusk, Exotic bird, Fireworks, Fog, Frenchie, Garnets, Georgin, Intergalactic, Jeans, Magical, Nectarine, Northern Lights, Olive Grove, Raven, Sour Cherry, Spice, and Tiger's Eye. 



Schoppel Boots is back!  Cotton, wool and nylon, makes gorgeous socks
Sept.22/18.  Schoppel Boots has arrived! OMG gorgeous, different colours from this Yarn artist in Germany
Remember, Purchasing Colour Adventures yarns helps support the surviving family of Elena Nodel, founder, genius pattern designer and chief dyer of this new family owned operation of Camella and Ryan Making, of A Twist of Yarn in Vernon, BC who carry on her Elena's heritage.  You will see these Canadian dyed yarns in our store in various weights as long as we are here at Wool & Wicker's retail store.
Just kitting this amazing sweater with the Knitting Without Tears book free with purchase 4 Balls Zauberball Starke 6 in these colours, 2095 and 2136.  You will also need to download the Inspira pattern from Ravelry to use to make this amazing garment.  $151.80.
http://www.skacelknitting.com/addi-FlexiFlips-new/
http://www.skacelknitting.com/s.nl/sc.2/category.8821/.f?range=41%2C80%2C84
February 14/2018.  ALL BOOKS AND MAGAZINES ARE 50% OFF, book titles we have are
children and charity knitting.
Itty-Bitty Hats, Itty-Bitty Nursery, Vintage Baby Knits, Knit the Christmas Story, Cottage Creations Babies & Bears Sweater, Celia's Blanket and More Projects for the Community and Still More Projects for the community, Sublime booklets 625, 658, 661, 676 678, 681, 685, 682, Knitting for Little Feet, Phoebe's Birthday, Rowan Story book for Little Knits, Rowan Mother & Baby book 19, Ella Rae Book 5, Introduction to Making Cloth Dolls, Hikoo Sock Puppets, Polo Child's Socks Collection, Katia books 56, 57, 4, Simple Knits for Little Cherubs, Purl the Little Knit Girl, Jean Greenhowe's Jiffy Knits, Homemade Fun,
Famous Knitwear designers
Nicky Epstein's Enchanting Collection, Knit to be Square, Color Style, Folk Style, , Pure Knits, Pints & Purls, Strick-ly Socks, The Sock Report, One Skein Wonders, Loop d Loop Crochet, Ori Ami Knits, Knitting with Peruvian Yarns, Handknit Romance, Yarns to Dye For, Nicky Epstein Knitting in Tuscany, Vogue Knitting Stitchtionary 3, color Knitting, 50 knitted Gifts for Year Round Giving, Warm Knits Cool Gifts, Quick Gifts to Wear, Knitting Little Luxuries, Custom Knits, Tweed, More Last Minute Knitted Gifts, Weekend Knitting, Knit Red, Reversible Knitting, Reversible Knits, Have You Any Wool? Knit Kimono Too, Freeform Style,  Knit Your Own Royal Wedding, Hattitude, The Alchemy of Color Knitting, Lost & Found, Lacy Little Knits, Mason Dixon Knitting,
Kim Hargreaves
Indigo, Heartfelt, Quirky, Scarlet,
Not to miss!
Botanical Knits, Malabrigo book 5 & 7, Westknits 4, Saturday Treat, Wrapped in Lace, Weekend Knits Vogue on the Go, Cables, Mittens, Hats, & Scarves Vogue on the go, Whimsical Little Knits 2 & 3, Personal Footprints, Slip Stitch Knitting, Boutique Knits, French Girl Knits, Rowan magazine 55 and 56, Classic Weekend, Book 8, Celtic Collection, Classic Knitted Vests, Fair Isle Knitting, The Art of Fair Isle Knitting, Knitting Nature, Simply Shetland 5, Knitting Without Tears, Rowan Alpaca Colour, Son of Stitch N Bitch, One Ball Knits Gifts, Sock Yarn One Skein Wonders, One Skein, Romantic Hand Knits, Mother Daughter Knits, Magpies, Homebodies, and Nomads, Knitting Nature, Knit Noro 1-2-3 Skeins, Welcome Home, Knitting With the Color Guys,many soft cover Noro booklets, Debbie Bliss magazines, and books Winter Essentials, The Charleston Collection, Fez, Number five, Simply Soft, Baby Cashmerino books #3 and 4, many Sublime booklets for adults and children, Vogue Knitting magazines, Knitwear/Knit/Purl, Interweave Knits, Knitscene magazines, Schoppel Magazines.
Addi's new flexiflips have been flying out of the store every day.  If you don't like short circulars or double points for small projects, you will love these!
Are you knitting for babies and children?  Boy, do we have yarn for you!  Just pricing a whole lot of Hayfield Blossom dk, Sirdar Baby Bamboo, Snuggly dk, Baby Crofter dk (knits Fair Isle automatically) , and Marble Chunky.  Get on over here and start your fall knitting, a good chill is in the air!
Colours as shown are no longer available in Canada,
     Papatya cakes, 100% acrylic, 540m/150g $9.90 cake.  Why not?
August 2, 2017.  We have some new and exciting yarns coming for fall.  First 3 lines from www.skacelknitting.com, see colours there, under what's new.
From Hikoo
Alpaca Lace Light - 100g/1422m, 100% Baby Alpaca so scrumptious! @ $25.90
Cobasi Dk Tonal - 50g/130m, our amazing best seller sock yarn, cotton, Bamboo, silk and elastic nylon in a dk weight tonal @ $10.95
Concentric - 200g/406m, 4 strands of the alpaca Lace light is spun together to create a worsted weight dream of a gradient yarn.  See Omena (Ravelry pattern) sample below in small size made with 1 ball $59.00 (many of the garments made on Ravelry are using 700 - 1000m).
Super-Quick Alpaca - 200g/51m, 50/50 alpaca, acrylic, another knitted tube in a jumbo weight @ $37.95, see capelet/snood below 1 ball for this versatile project, pattern free with yarn purchase, five colours are here.
Super quick Alpaca capelet/cowl worn as Snood

Woodi - 50g/56m, chunky weight 53% Abaca pulp, (banana tree relative wood pulp) and 47% cotton, great for bags, hats, baskets. $9.95 
From Schoppel
Bio Merinos - 50g/152m 95% Organic Patagonia Merino wool, 5% linen, gorgeous colours, sport weight, lovely to knit, see Cat Hat sample below, from Knit simple mag Holiday 2016, @ $12.60, beside that is Elena Nodel's On the Dot hat, from Ravelry, knit in Hikoo Trenzado, 1 ball each colour.  The colours are amazing!
Jeans Ball - 100g/406m, sock yarn 75% patagonia wool, 25% nylon, $22.75, working on store sample of Lace Poncho, along with Hikoo Sueno.
Reggae Melange - 50g/101m, can be knit as a bulky, prefelted Patagonia 100% wool to prevent pilling @12.40.
Zauberball Cotton - 100g/426m, sock weight 100% organic cotton, @ $25.90, on the Ravelry top 10 list of most popular new yarns, see my fingering weight version of Elena Nodel's Ruffled Summer Top with Spur of the Moment Ruffled Hat below. @ $25.00, less than 1 ball to make both dress and hat.
From Zitron
Feinheit - 100g/362m, sport/fingering weight 100% merino ultrafine wool 16 microns! Rivals cashmere in softness @ 37.95, see my started sample of Elena Nodel's Polarity Shawl shown below with this amazing new yarn and Schoppel Das Paar (matching sock yarn) below. see colours @ skacelknitting.com
Yak - 100g/508m, 70% 16 micron merino blended with 30% yak, a wow lace yarn @ $45.50.  You have to feel this one!  Soft as the best quality cashmere!  Colours @ skacelknitting.com under what's new.
We also have lots of Sirdar Snuggly dk, and Baby Crofter dk, and the new Hayfield Baby Blossom dk, and more James Brett Marble Chunky.                                                                                             


Here is one version of her wonderful new pattern Polarity Shawl.  Very easy and quick. 18 - 20" deep, 75-80" wide, 400 yards main colour, 250-300 of contrast colour.  Possible yarn combos: 2 contrasting solids, solid + variegated, solid +speckle, solid+ mini gradient.We can kit this up in many different yarns and colours.  Come on down and let us help you pick out something wonderful for a gift!  We now have a sample made in the stor
Join Michelle "Knit Purl" Hunter as she leads us through an adorable baby sweater ... aptly named, "Adorable Ewe". Knit in our HiKoo® Simpliworsted yarn, this mystery project is brimming with essential sweater knitting skills - the perfect way to strengthen your abilities. According to Michelle, this sheep themed sweater is "too cute to miss".
Size:
This sweater is sized for a 6 month old baby, and is appropriate for both girls and boys
Gauge:
16 stitches and 24 rows = 4" in stockinette on larger needle
Additional Awesome Ewe KAL details, forms, and rules, can be found on the skacel website.
Oh my so cute!!  Just have to cast on for this! 
Update, April 27th, just have the fronts to make, and put together.  What a great idea of Michelle to teach sweater knitting and intarsia on a small scale!  Love it!
Just came across this awesome garment on Ravelry, AkkuAlpin's Inspira Experience, Seamless Yoke Sweater, for which she used Elizabeth Zimmerman's percentage system demonstrated in her book Knitting Without Tears, using 4 balls of the fabulous Zauberball Starke 6, 2 each of 2095 and 2136.  This goes into my must make pile!  The Inspira Cowl is such a great free pattern on Ravelry, and you can use any weight of yarn.  You can see my cowl further down the page
Get so many comments on this cowl, 1 ball Schoppel Gradient and 3 colours of Hikoo Simpliworsted, 1 ball each.  Inspira cowl on Ravelry, free pattern, easy knit, 3 weights of yarn to choose from. Have a Zitron Kimono with Zitron Trilogy Inspira on the needles.  Thanks to Larissa (theviolinist) for the picture!
Oct. 18/16.  The delayed trunk show has arrived!  See this week before it goes on the road!  See and feel the Ravet Blanket in simplicity, the old denim Blanket, the Building Blocks Blanket, the Cozy Blanket, the Evolution shawl that wowed us all in the Fiber Factor contest, as well as many other Skacel Designs.
Are you knitting for babies and children?  Boy, do we have yarn for you!  Just pricing a whole lot of Hayfield Baby Changes, Sirdar Baby Bamboo, Snuggly dk, Baby Crofter dk (knits Fair Isle automatically), and Tutti Frutti!  We have Prairie Wool coming very soon for your Native American sweaters, and new stock and colours of Debbie Bliss Roma and Roma Weave, Rowan Brushed Fleece, Malabrigo Rasta and Marble Chunky.  Get on over here and start your fall knitting, a good chill is in the air!
 Rylie Hand Painted is in, based on the solid colour palette 
What's new at Wool & Wicker is Zitron Hanf Natur bicolor, a hemp/wool sock yarn that is perfect for this gorgeous lightweight cardi from Ravelry, "MinnieVolde's Blauer Hanfling" version of "East Coast Girl" by Veera Valimaki,  Check out all the colour choices below
Try this gorgeous 100% merino super bulky on a 25mm needle for about 14 stitches and 50 rows and join for a super 1 skein cowl!
Forme & Farbe
Below is the gorgeous Hikoo Merino Lace Light, made in Peru, 3 colours to start with, 1422m/100g skein!  $21.40
2158, 2159, 2160, 2318 & 2319

Ellistrickt's Sommer auf Magrathea in Admiral Cat Print 425m/100g, from Schoppel on Ravelry made into Magrathea by Martin Behm, 1 skein colour 2158 Barrakuda, imagine it in any of these unique colours

 We have these colours and more, on our second shipment!
New to us  are James Brett Marble Chunky, in 9 colours and 8 patterns covering all the bases, baby, ladies garments, men's, blankets
2                                             7                                        8                                          10                                        15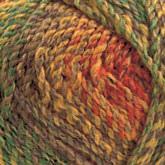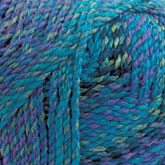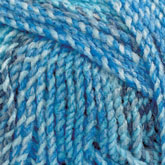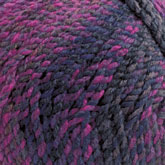 This is our mermaid tail, made with 2 Marble Chunky,
 
45                                          61                                       64                                        65                                       pattern 023, 200g balls/341yds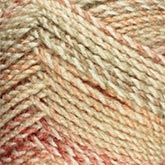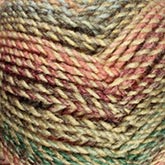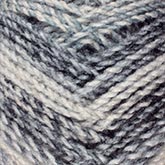 Trekking Price Decrease: One of the best and most long lived sock yarns on the market just became even more affordable! Effective immediately, Zitron's Trekking XXL, Trekking Maxima, Trekking XXL Tweed, and Trekking XXL Ombre feature a new lower MSRP of $19.95 per 100g skein/420metres. Furthermore, Trekking 6-Ply and Trekking 6-Ply Tweed have been lowered to $31.90 per150g/392m skein. Great for double knitting weight blankets!

trekking sport (solid colours in trekking sock                          just a few of the fabulous colourways in trekking sock
go to skacelknitting.com to see the rest of the line, click on yarns, manufacturer is Zitron, scroll down to trekking.
Some new yarns we have coming from Skacel are Schoppel's Edition 3 150m, and 6 300m, 2 superwash extra fine merino blends in colours that remind of Zauberball Crazy, 50 gram balls in sport weight and lace weight, @ $15.50/ball, Schoppel's Admiral Cat Print, 425m/100g handpaint sock yarn, Zitron's Hanf Natur, a sock yarn blending Hemp with Wool, Zitron's Form & Farbe, 50m/100g super bulky extra fine merino superwash, a very poofy knit on big needles, Hikoo's Merino Lace Light, 1422m/100g, in 3 colours to start, natural, white and grey blend at a fabulous price of $19.90, and Schoppel's Reggae Print, 100m/50g, self patterning 100% pre felted merino.
                                                                         
April 7th, 2016.  It is raining Colour Adventures in here today!  We have the wonderful Sweet Merino dk in lots of sweater amounts now, including artichoke, chilly, dusk, spice, serendipity, midnight blues, octopus garden, rainy day and raven.  We have a gorgeous garment made in 4 of these colours with this yarn, from the KNIT.PURL FALL/WINTER 2015, THE ANNIE MODESITT GARTER RECTANGULAR JACKET,as pictured here from the magazine.  Got the mag, and same day had it put together and started.  Never happens to me.

Cute snail Hat, pattern free on ravelry, we have about 20 kits made up for an adult version of this incredibly easy but awesome hat in the store, with Schoppel's Reggae Ombre, a pre felted merino in many gorgeous colourways, get yours now while we have lots of colours to choose from! 
what's new 2.
April 3/15, currently updating our gallery, with prices to make or buy the garments. Check it out!
New colours in Zitron Trekking! Plus there are 3 new Camouflage colours!
Amazing reception for these great newly designed double points from Skacel! Flipstix! Fabricated from high-grade aluminum, these colorful ultra-lightweight wonders feature dual tips (each needle features both a Turbo® tip and a Lace tip for added flexibility of use). A revolutionary design, FlipStix are available in 6 and 8 inch lengths, in US 0, 2.25mm, 1, 2.75mm, 2, 3, 4, 5, 6, 7, 8, 9, 10, 10.75, and 11.

Check out this Phoebe's Birthday Dress in Nuna. Sample in store.



KNITTER'S!! GREAT NEWS!!
Here's to Your Health
The health benefits of knitting have gone viral (pardon our pun!). The Craft Yarn Council has spent the past year educating people about the link between stitching and health, and the media has taken note. Executive Director Mary Colucci shared some of her favorite articles with us:
Hikoo Zumie "Burton Bear Cowl" 18 month size, 1 skein.
what's new 3.
see new books below.
All books are on at 50% off!
Warm Earth by Yumiko Alexander 18 lovely knit & crochet designs
Lace One Skein Wonders
Knitting Workshop revised, by Elizabeth Zimmerman
60 Quick Baby Blankets
Sweet & Simple Baby Crochet - everything cutesy!
Crochet Celebrity Beanies book 2
Knit Celebrity Beanies Book 2
Michelle Purl Hunter's new Building Colour pattern booklet
Itty Bitty Toys
Phoebe's Birthday
Knitting More Circles around Socks
Malabrigo book 3, and 5
The Art of Knitted Lace
Crochet One Skein Wonders
Kids Knitting
Knitted Animal Hats
Knitted Fairies
Knitting Pattern Essentials
Loop D Loop Crochet
Men's Knits
The New Tunisian Crochet
Stahman's Shawls and Scarves
Victorian Lace Today
Whimsical Little Knits 1 2 & 3
Wrapped in Lace
the sock report
Hip knitting
One + one scarves, shawls and shrugs
Dreaming in Colour (Kaffe Fassett's autobiographical colour feast)
Knit red
one + one hats
Juju's loops
The knitter's handy book of top-down sweaters by Ann Budd
Cowl Girls
Noah's Knits
French Girls Knits Accessories
Finishing School
Little Red in the City
Big Foot Boutique - couldn't resist this reprisal of some fun booties, slippers for little ones from Annie's Attic
Fishermens Sweaters - Alice Starmore - paperback, a must for all traditional knitting knitter's! Fabulous collection of guernsey, fairisle and aran type sweaters for all ages.
Aran Knitting, YES!! Alice Starmore's book is back in print!! We have lots in now! Get your name in now for one, these are the books that have been for sale on line at $400 because of being in high demand and unavailable!!
Celtic Knits Alice Starmore
Charts for Color Knitting: New and Expanded by Alice Starmore
Knitted Wild Animals - I have knit the snake, the lion and the monkey from this one so far, very kid appealing
Stashbuster Knits, some great designs to use up leftovers
Wool Toys and Friends paperback
Boutique Knits
Itty Bitty Hats
Itty Bitty Nursery
Knit One Knit All
Knit Your Own Royal Wedding
Lacy Little Knits
Sock Yarn One Skein Wonders
Kim Hargreaves Vintage Designs to Knit
Wool Toys and Friends paperback
Helen Hamann's 2012 Calendar of Patterns 50% off
Knit One Knit All
Knit Your Own Royal Wedding
Sock Yarn One Skein Wonders
1, 2, 3, 4 Double ended hook crochet leaflet
Get Hooked on Tunisian Crochet to help support our new crochet hook set linked to the Addi Click sets. Be sure to check these out, there is an awesome Tunisian Crochet shawl done in Noro Silk Garden;
Child's Play from Simply Knitting,
Fabulous Felted Bags from Nickey Epstein again,
The Great North American Afghan,
Loop-d-Loop Lace, what a variety! another hardcover by Teva Durham, more than 30 novel lace designs, covering many bases with her yarn and garment choices, from hemp to shetland jumper weight, from socks and belt to a gorgeous donegal tweed skirt;
Knitting with Peruvian Yarns,
Modular KNits in softcover;
Lacy Knits
Knit Great Basics - Vickie Square
The Knit Stitch - I think the #1 book for beginner knitters to knit great projects beyond the simple garter stitch scarf, includes very clear instructions and tips for perfect finishing, etc. - Sally Melville
One Skein
Knit Kimono 2 also includes DVD
More Last Minute Knitted Gifts
Dolce Handknits
Knitting It Old School
Wrapped In Lace
Introduction to making cloth dolls
Vampire Knits
Warm knits, Cool Gifts
1000 Fabulous Knit Hats,
Custom Knits,
Design it, Knit it: Babies,
Homemade fun,
Knitwear Design Workshop,
Mason Dixon Knitting,
One Ball Knits Gifts,
Socks a la Carte 2,
Crocheted Gifts: Irresistible Projects
Truly Terribly Horrible Sweater that Grandma Made
Hattitude: Knits for every Mood
Destination Alchemy
Alchemy of color knitting
Alchemy Lost and Found
Knitting in the Sun
Breeze by Kim Hargreaves
Nicky Epstein Knitting in Tuscany
Pursenalities and Pursenalities Plus
Vintage Baby Knits
101 Designer One Skein Wonders back in
The Knitter's Manual
Debbie Bliss Baby & Toddler Knits
Iris Schreier's Reversible Knits
Mother Daughter Knits: 30 Designs - Melville and daughter
Pints and Purls
Shetland Lace - original designs from Jamieson & Smith
Aran Knit - Japanese
Fiber Gathering
French Girl Knits - back in - don't miss this one, I would make almost everything in this book!
Magic Loop
Pipsqueak Knits
Romantic Handknits
Rowan Junior
Sensual Crochet
Simply Shetland #5
Knitted Gifts: Irresistible Projects to Make & Give
Natural Nursery Knits
Big Girl Knits soft cover
Cowl Girls,
custom Fit Knit Jackets: Casual to Couture,
Finishing School: a Master Class for Knitters, by Debbie Bliss,
Knitted Dinosaurs,
Weekend Hats: 25 Knitted Caps, Berets, Cloche
Personal Footprints - Cat Bordhi