kits.
For most of these projects, go to skacelknitting.com for colours available, and for free download patterns where mentioned, and call our store 1-877-966-5945 tollfree, or local 604-275-1239 with your order. Tues. to Sat. 10-5:30PM PST, Sun. and Mon. 12-5PM. Skacel Patterns we have for sale are $5.30 plus HST. Shipping price will depend on location and size of parcel. Price of kits does not include 5% GST. If you are ordering from other countries, there is no GST.
From the latest fall 2016 Knitter's magazine, check out this gorgeous capelet, "Bonfire" made in the fabulous colour 2199 of Schoppel "Gradient", which comes in 17 colourways, see them all at skacelknitting.com. Pick yours and make this with 3 or 4 balls, For $90, 90, or $120Can, depending on your size, and we will include the magazine, which I think is the best one I have seen for awhile.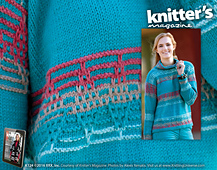 Another goodie from same issue, "Turquoise Trails", is made in my fave merino blend ever, Hikoo Simplicity, and takes 8, 9, 10 or 11 balls MC for S, 41 bust M, 45, L, 48, XL 52 and 4, 4, 5, 5 balls CC, Simplicity Multi. small, $123.46, med.$133.35, large, $154.25, XL, $164.20. Purchase now and get book free.
Holy WOW!! Check out Ravelry.com and go to our ex beginner knitting teacher Elena Nodel, "Anadiomena"'s patterns, one of many is the child's (shown on 4 yr. old) Sand dance skirt. You can order it with yarn tollfree at 1-877-966-5945, we will include the pattern with yarn purchase. Blues shown below. When you knit with this yarn, you will want more, I guarantee! I have been knitting for 55 years, so some experience!! We now have equivalent dk yarn from Colour Adventures, @$25 Can./100g/229m or 250 yards for it, or you can use our wonderful Hikoo Simplicity @$9.95 Can./50g/107m or 115 yards, or the Simplicity Multi @ $10.95Can./50g. You can use a multicolour for the bottom of the skirt, (see some examples below) and solids for the cross cable and waistband. Come in and let us help you to pick colours, or if you call our tollfree # and let us know the colours you would like, we will put it together for you. We can also take a picture of the colours we pick for you and send it by iphone for your approval. Sizes and weights of yarn suggestions are: Fingering (4 ply): 6m to 1-3T, Dk (8 ply): 1-3T to 6-8 years, Worsted (10 ply): 2-4T to 12-14 years. If you wish the smallest sizes in fingering weight, we suggest Colour Adventures merino light @ $25Can./115g/434m or 474 yards, or you can also use the fabulous Hikoo Cobasi @$9.95Can/50g/200m or Cobasi Multi or tonal @$10.95Can./50g/200m, which can be knit at almost any gauge! There is also a new dk weight!
Sand Dance skirt sweet merino dk in spring garden and irises and serendipity
or simplicity multi
still waters purple reign margaritaville or carnival party colourways
or Hikoo Cobasi Multi, check out the solids at skacelknitting.com
Pansies funtastic or bluestreak
More knits for little ones
If you are knitting for little ones, make sure to consider the ! Made with 1 of the gorgeous Hikoo Simpliworsted Multi @ $17.95 and collar, WoolieBullie $8.95Can./50g/25m for 1st size, or the furry Caribou, @$8.70Can./50g/85m, you will have a warm and uniquely dressed baby indeed! This is such a quick knit and 64 colours to choose from! See skacelknitting.com and check out the Hikoo Simpiworsted multicolours, there are 2 boyish and 2 girlish multicolours @$17.95 Can./100g/130m, as well as about 50 solids @$16.95Can./100g/130m! While there, have a look at the beautiful Simpliworsted Marl colours, also $17.95 Can., shown below in the , 3 skeins will make the 6 month size, and you have enough leftover to knit the fabulous , also shown below, we have samples in the store!
Want to make TOYS instead? While having a look at Hikoo Caribou, decide what colours you would make a puppy, monkey, or bear with! , where the fur is knit along with a strand of dk weight simplicity for body, and the knitting, unlike most toy patterns, is knit in one piece, making it a faster and more enjoyable project. And they are so cute! Another Cid Hanscom design collection , using Simplicity to make the most adorable little creatures, is a unique hybrid of storybook, pattern collection and playtime. Paper dolls and a short story accompany the adorable garden inspired toy patterns. Each knit doll has a coordinating felt home, and a child's sized hat to match and simplicity's colour 41 Karin's birthday suit, is a perfect flesh colour for your toys. Lastly, designed by Fiber Factor winner Lauren Riker, is knit with a doubled strand of Hikoo Kenzie, a luscious blend of merino, nylon, angora, alpaca and silk, @9.95Can./50g/148m/160yds, comes in 30 colours, and is sized 9-12 months, using 6 balls
Baby Bomber Jacket Kittenish Sweater Cat Bordhi's Anemone Hat
pattern ravelry $7 usd
Caribou Critters, 3 Caribou, 3 simplicity, doubled, 15 yds Purl the Little Knit Girl
black for eyes and nose, pattern $5, booklet $23.09, on Cid
$52.95, dog takes same amt., Hanscom's etsy page
monkey takes 3 simplicity and see above for description
2 Caribou, $41.25. this is really special!
Owl in One, 9-12 mo. size, .
6 balls Kenzie, doubled, $59.70, pattern $5
Lacy Boot Cuffs Baa Baa boot cuffs
SimpliStylish Boot Cuffs
Lacy Boot Cuffs 1 Simplinatural, 100g/170m @ $25.95, Baa Baa Boot Cuffs, 1 Simpliworsted Multi, $17.95, 1 WoolieBullie $8.95, SimpliStylish Boot Cuffs, 1 hank each colour (1 solid, 1 marl, makes 2 pair of either size, $16.95 and $17.95.
Free pattern for boot cuffs, popular in Simplinatural, Simpliworsted multi and marl, using wooliebullie for upper cuff, (pic center) go to skacelknitting.com/boot-cuffs/.
Now that you have seen the gorgeous colours in Kenzie @ $9.95/148m, here are some ideas for your next garment for gifts or yourself! First shown is free pattern Colormatic Cowl, by Michelle Hunter using 4 colours, small and large size given in free pattern, 4 @ $39.80 or 8 @ $79.60 skeins total, (we have large sample in store), and 2 garments from Fiber Factor contestants Rachel Henry, Winter Beach, 11-16 balls, ($109.45 - $159.20) depending on size, and Bravura, with yarn doubled, by Tracy Purtscher, 19-26 balls ($189.05 - $258.70), depending on size, small/medium fits 2-12, large/xlarge fits 14-20.
Colormatic cowl Winter Beach Bravura coming and going
One of our most popular yarns is just so magical, they had to name it that way in German, Zauberball, and it comes in several styles, Zauberball sock, Zauberball lace, Zauberball Crazy, Zauberball 6 ply or Starke 6, Zauberball 100, Zauberball lace 100. Don't miss out using this yarn for anything you want to make! From Socks to blanket, we have samples in the store. Just yum! Left to right, Striped Infinity Scarf, free pattern with yarn purchase, 1 ball Schoppel Zauberball $27.95, middle, Zauberball Lace Ball (800m), Lace Edge Swirl Shawl, takes 2 balls @ $52.90 with pattern! right, $57.90 gets you yarn and another pattern from Ravelry @ $3US featuring 2 balls of Zauberball sock yarn @$55.90, called Modular Scarf with Ruffled Edges.
Zauberball Sock
Lace ball colours 1535, 1536,1564, 1872,1874,1993
Zauberball Crazy
Zauberball starke 6 2248
Below right is Biased Transitions by Jenny Faifel, 3 Zauberball 100, 2179, $89.85 pattern $4.75US on Ravelry
Zauberball 100 $29.95/100g/400m This shawl is colour 2179, Gorgeous, huh?
Right is the Lovely Ooh Lala Gauntlets pattern 21100067 running 2 lovely yarns together, 1 kid seta and 1 cashmere queen or cashmere queen uni. 1 ball of each will make full mitts out of this pattern, if you prefer. $45.02 If you wish to use kid seta lux, the kit will be $47.26.
Above is the Windsbraut Padua pattern for Zitron Filigran taking 1 skein of this lovely lace weight yarn of 600m to 100gram, making the cost of the kit $36.95. Lovely
UPDATE
The Filigran is 100% Superwash merino, and there are several other same weight yarns which can be used in this lovely shawl pattern. Consider the cousins Zitron Filisilk, an absolutely dreamy lace weight merino/silk, at $44.95, Fil Royal, 100% royal alpaca @ $44.95, and the brand new Traum Seide, 100% mulberry silk, 800m @ $69.95 or hand dyed @ $75.95. What a gorgeous gift for yourself or loved one!
CHECK OUT COLOURS AT SKACELKNITTING.COM
And 1 more from the Fiber Factor, the first ever online reality knitting competition put on by Skacel Collection Inc., the North American distributor of the Addi needle line and yarns from Hikoo, Zitron, Schoppel.
#21100538 - Simplicity and Zauberwolle - Ciao Bella Knitters Tote - Pattern designed by Jodie Gordon-Lucas.

A knitted Knitters Tote seems a most logical thing imaginable! The Ciao Bella Knitters Tote came out of The Fiber Factor's Challenge 6 design competition. Designed by Jodie Gordon-Lucas, it is a clever, multi-purpose bag with pockets and compartments galore. It even has a built-in webbing to hold balls of yarn in place, making it a wonderful bag for works in progress. The bag is secured on both sides using the Florentine Hinge by JUL. The original design was created with 6 hanks of # 046 Simplicity by HiKoo® and 3 balls of #1508 Zauberwolle by Schoppel Wolle. It was knit using two (2) 3.5mm (approx US 4) 47cm circular needles. The tote can also be knit using only Simplicity in 2 colours.



Zauberwolle colours, take your pick! 3 balls Zauberwolle and 6 balls Simplicity for this great bag $146.00, pattern is $5
If you wish to make it all in Simplicity, doubled, 12 balls would be $119.40
Namesake Cowl is a free pattern download from Skacelknitting.com or Ravelry, using the fabulous Hikoo yarn Simplinatural, 1, 2, or 3 balls, for 20, 40 or 60" of reversible luxury softness. $29.70/100g ball
Endgame is a beautiful reversible cable unisex scarf make with 2 or 3 balls of Hikoo Kenzie, designed by Michelle Hunter, free pattern found on Ravelry or Skacelknitting.com. kit $19.90 or $29.85.
Ridgely, a lovely 2 colour scarf, another by the amazing Michelle Hunter, free Ravelry download pattern, takes 2 of Cobasi in main colour, 1 contrast, for $26.10. You will love this sock yarn, cotton, bamboo and silk, with some elastic nylon, acts like sock wool, but no wool involved. This amazing yarn can be used for just about anything! I have made a little summer lacy in the round cowl on an 8MM!
Intertwisted, free Ravelry download, takes 2 skeins Hikoo Simpliworsted, for a 1 colour cowl, knit 3 pieces and braid, simple and yet so cool! $37.90. Choose from 64 colours! See them all at skacelknitting.com
Origami Pullover
This is a long knit, in rib, but the results are so worth it. Come in and try on our sample! Flatters every body. Pattern could be made in Sueno, wool and bamboo, 6 skeins, @ $119.40. We also have every colour of Hikoo Llamor, 100% Llama, so soft @ $11.90/100m/50g! Another yarn that has been used is Colour Adventures Sweet Merino dk, 6 skeins @ $150, or larger size would be $175 for 7 skeins for dk, and 8 skeins @ $200. Pattern is $6.80, 5% Tax not included
Trig Hat.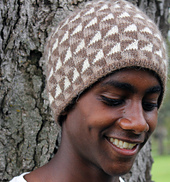 3 natural colours of Hikoo Llamor are combined in this lovely hat pattern, super warm and a great pattern to learn 2 colour fair isle, using one colour in each hand. $35.70, choose your colours from skacelknitting.com, we have them all. Pattern is $6.80.
From Westknits 5
Hekla is a Cirilia Rose design from her fabulous collaboration with Stephen West, Midgard, or West Knits 5. You will want to make everything in the book! With 2 balls Schoppel Leinen Los ( 4 colours to choose from, charcoal, deep chocolate, lighter brown and ivory) and 1 Zauberball Starke 6 (see colours available above) you have enough for medium size, @ $87.95. Flatters every body! If you want the book, it is here in store for $24.95, or you can get the pattern on Ravelry @ $6 USD.
Esjan is a Stephen West designed top down shawl using 3 colours of a lovely partially felted (to prevent pilling) singles yarn from Schoppel, Alpaka Queen, formerly called Baby Alpaka Naturbelassen, 50/50 wool and baby alpaca 200m/100g @ $74.85. Quick and fun to knit, we have a sample in the store if you want to try on first. See all the natural colours @ skacelknitting.com
Gullfoss
Another Stephen West design using a crisp wool/silk blend, Zitron Kimono, can be worn as a vest, upside down, backwards, or as a poncho or scarf. Very versatile, and easy meditative knitting, as shown, medium size takes 6 skeins, 3 main, 1 each of 3 other colours, @ $179.70, (yarn has 300m/100g) you will have lots left over of the 3 "other colours", enough to make a small garment! The pattern is in the book, or can be downloaded on Ravelry, @ $6US. Check out the amazing array of colours on skacelknitting.com.
Raxtur
Another of Stephen's great totally unisex designs, knit in the lovely Alpaca Queen, slouchy look on an earflap hat, 1 each of 2 colours, $49.90, warm and cozy, and Westie cool! Pattern download on Ravelry $6USD, or buy the book! $24.95