workshops, knit and crochet classes.
CLASSES WITH EDITA MICHALEK.
Beginners and Beyond Knit and Crochet. This is a choose your own project class, you can learn to knit socks, fair isle, intarsia, entrelac, lace, or whatever you like, in our classes, so get your name and deposit in now to hold your place, Max 6 students. 604-275-1239. If you want to learn to Knit or Crochet, you can do that in this class. Edita can also teach Building With Lacein these classes, see info at bottom of this page. Please note that beginners get a ball of yarn and needles to practise with, and when you choose to make anything, you will get a 10% discount on all class purchases, students are expected to purchase their yarns at Wool & Wicker. We have a wide range of weights, yarn content, and prices.
Next Beginner and Beyond Knitting and Crochet, Wednesday night class with Edita will start September 27 - November 1st, 2017, from 7-9PM $110 for 6 weeks,
next Friday morning class starts Friday, September 15 - October 20 2017, from 10-12. $110 for 6 weeks
and Saturday afternoon from September 16 - October 21, 2-4 PM. $110 for 6 weeks
If you are interested, make sure to get on the wait list, as there is almost always something coming up that will prevent at least 1 student from making it, you know life happens when we are making other plans!
CLASSES WITH WILLINA COLLINS
Beginners & Beyond Class Sunday mornings 10-12 am from Nov. 26/17, has openings, dates as below, if you want to drop in or make up classes. Please call the store 604-275-1239 if you plan to come. $110 for 6 weeks.
Building Blocks Blankets Every 2nd or 3rd Sunday of the month, 12-2 starting November 26th, 2017, so Dec. 17th, Jan. 21/18, Feb.18, Mar.25, Apr.15, May 13, June 17, Jul. 22, Aug. 19, Sept.16, Oct.21/18. ONCE PER MONTH FOR 12 MONTHS! Fee of $260 includes the book. Fees must be paid in advance, we take Visa and Mastercard, or post dated personal cheques. Maximum of 6 students, Minimum of 4. Students receive 10% on all items purchased while in class. If you have to miss a class, you can make up with Edita or Sarah on their class dates.
Learn new skills by building a block by block afghan over the next year by taking this workshop with the help of Willina Collins. Choose your yarns here, you may buy one ball per month or purchase them all at once if dyelot is a concern, We haven't much room for holding yarns anymore. Suggested yarns are Hikoo Simpliworsted (recommended) as used in the book, Rowan Pure Wool Worsted Superwash, or Hikoo Simplicity, the latter 2 will result in a smaller blanket.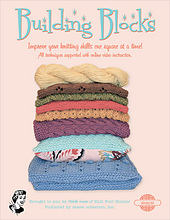 ORBuilding in Color class with 3 colours and 24 skeins of Hikoo Simplicity if you are a more experienced knitter who wishes to learn colorwork starting from Nov.26th/17 2-4PM, then Dec. 17, Jan. 21/18, Feb.18, Mar.25, Apr.15, May 13, June 17, Jul. 22, Aug. 19, Sept.16, Oct. 21/18.
NewBuilding With Lace
Building with Lace is the third class project book from reknowned knitter and teacher, Michelle Purl Hunter. It is a carefully designed sequence of patterns that introduce knitters to lace work starting with the basics and working towards more difficult patterns. This work follows the same format as Michelle's earlier books, Building Blocks and Building in Color , and has been a long awaited addition to this educational series.
.
Edita's 1/2 finished shawl in Mirasol Nuna
Sarah Garland's finished shawl in Hikoo Rylie
We are offering this new class, Building with Lace coming up as early as September! It will run for 10 classes, and we have 3 teachers who would like to lead you through your gorgeous shawl.
Edita Michalek can teach Sept 27, Wednesday nights, 7-9, Sept. 15, Friday mornings 10-12, or Sept. 16, Saturday afternoons, 2-4, for 10 weeks, every 2nd week to give you enough time to knit each section,
Willina Collins can teach once a month, Sundays, from 12-2, starting November 26th. Willina also has a number of workshops that she can teach you here.
1/2 Day workshops are:
Basic Cables - right and left leaning, back and forth or in the round learn charts
Colourful Cables - basic cabling skills required
Columns of Colour: K1b - 2 colours knit horizontally for vertical stripes
Short rows - learn a variety of methods, learn to calculate shawl collar
Beadazzled! - do sampler of 2 ways to place beads using chart
Entrelac: the basics - make placemat learning seamless entrelac
Entrelac: double knitted - reversible for blanket both sides right side
Intro Double Knitting - 2 different ways to cast on, learn techniques, make motif
Beginning Brioche - make swatch of cast on, bind off, ribbing and more
Intarsia Colour Changes -
Illusion (shadow) Knitting - place an illusive picture in your striped project
1 Day workshops are:
Socks from toe up - make a mini demo sock
Old School Cuff-down socks - traditional socks on DPNs or short circulars
Socks: Two at a time, No more Onesockitis - socks soar on 2 circular needles
Mitres: The Building Blocks of Knitting - magical mitred squares
Top Down Sweater - knit a miniature version of a top down raglan sweater. Learn the basics of sweater making
Finish like a Pro - Learn the right join for the yarn type, invisible seams and tucked in ends.
Sarah Garland will start teaching these classes as well, starting Tuesday or Thursday night Sept. 5th or 7th 7-9, 10 weeks, every other week. Let us know your choice of day, and we will need a deposit to hold your place in the class. The cost of the class will be $195 not including materials, Building with Lace book included. Class fees must be paid up front, we take Visa and Mastercard, or post dated cheques. Your yarns (must be purchased here) and needles will, as always, be 10% off while a student. Min. 4 students, Max. 6.
or take Sarah's class and learn
needle felting, making some felted Christmas ornaments! or
Knitting from the Top Down, with any pattern by Anadiomena on Ravelry.
or do you want to learn
Tunisian Crochet from a self taught designer? Jennifer LeCaine has left a sweater sample in the store to show you what you can make. She can teach Sundays 3-5, or Tuesday nights 7-9, in a 4 week workshop to learn this crochet method which resembles knitting, to knit a garment for yourself or a gift in the 4 weeks. We will have choice of garments posted before class, so you can have your yarn and tools ready to go.
Call now and make a deposit on a class of your choice. You will love the results! 604-275-1239.