workshops, knit and crochet classes.
We are open!!  Our NEW store hours are: Tuesday, Wednesday, Thursday 10-5:30PM.
Please call Diane at 604-307-8402 if you want to pick something up specific during our previous open hours (All day Saturday, Sunday, or Monday and Friday mornings). Check out what's new on our blog pages! Click on Diane's blog.  See us on Facebook at https://www.facebook.com/Wool-and-Wicker-127684623950112/
We have all the Rowan Felted Tweed colours for this gorgeous Kaffe Fassett masterpiece cover of Vogue Knitting Late Winter 2020.  Order @ 604-275-1239 or tollfree long distance @ 1-877-966-5945.
New Hikoo yarn!  This is Popcycle, made from recycled plastic bottles!  Already 71 projects on Ravelry!!  Want to try?  Let us know, and we will bring in for you.  Can.$18/skein/100g/279m. pattern below available on Ravelry. We also have Hikoo "Drape" 100% Rayon you can use.  Just finished my version of "Bolan", doubling 3.5 skeins Drape with 1 cake of 1200metres Schoppel's "Lace Flower" 100% merino 
  Hannah Mann's popular design
3-5 skeins
 "Vindauga" pattern, long or crop.
Current special classes are described at bottom of page.
Sorry this newsletter has been delayed for unforeseen circumstances.  We are late getting it out, so please do respond if you are interested.  If you can't reach me at the store, please call my cell # 604-307-8402.  Wool and Wicker is now open 3 days per week, Tuesday, Wednesday and Thursday, 10-5:30PM.  Diane is working alone for now, hopefully if things get busier, we will open more hours and get part time help, but for now, this is all I am capable of. 
CLASSES WITH EDITA MICHALEK.
You may choose whatever you would like to knit or crochet or learn from beginning.  Please choose your yarns here, as that is what we need to happen to stay in business.  We know some of you are needing to finish your classes that you have already paid for, so we will need to talk about payment adjustments.  The 6 week classes will be $90. 

We now have more room and 2 tables, to allow for social distancing of 6 feet.  Please note that everyone who comes into the store must wear a mask and use our hand sanitizer. To make it easier on Edita, please bring your choice of tea or coffee, as there won't be anyone to wash dishes.  We will supply our cookies.  Please use  your washroom before class, as we are instructed not to allow anyone outside of staff to use ours.  I'm sorry!! 
Our next classes for 2020 will be scheduled for
Wed. nights, 7:00 - 9PM, September 9th, 16th and 23rd, then October 7th, 14th and 21st. 
Friday mornings, 10 - 12AM, September 11, 18, 25, October 2, 9, and 16.
Saturday afternoons, 2 - 4PM.  September 12, 19, 26, October 3, 10, and 17.
Call now and  make a deposit on a class of your choice.  You will love the results!  604-275-1239. 
Beginners and Beyond Knit and Crochet.  This is a choose your own project class, you can learn to knit socks, fair isle, intarsia, entrelac, lace, or whatever you like, in our classes, so get your name and deposit in now to hold your place, Max 4 students. 604-275-1239.  If you want to learn to Knit or Crochet, you can do that in this class. 
Edita can also teach the Socks Soar with 2 circular needles or 2 colour Brioche class 3 classes of 2 hours each , $55 or
Building Blocks, Building in Color and Building With Lace in these classes, see info at bottom of this page.  Please note that beginners get a ball of yarn and needles to practise with, and when you choose to make anything, you will get a 10% discount on all class purchases, students are expected to purchase their yarns at Wool & Wicker.  We have a wide range of weights, yarn content, and prices.  Fees must be paid in advance, we take Visa and Mastercard, or post dated personal cheques.  Maximum of 4 students, to comply with Covid rules of social distancing.  Students receive 10% on all regular priced items purchased while in class.  If you have to miss a class, you can make up with Edita on her other class dates.  The current dates are as follows.  If you wish to make up or drop in ($20 fee for 1 class) please call ahead to be sure of room.
If you are interested, make sure to get on the wait list, as there is almost always something coming up that will prevent at least 1 student from making it, you know life happens when we are making other plans! 
If you can't make a class, we usually have other classes different days or evenings in which you can make up.
Building Blocks Blankets
Learn new skills by building a block by block afghan by taking this workshop with the help of Edita.  Choose your yarns here, you may buy one ball per month or purchase them all at once if dyelot is a concern, We haven't much room for holding yarns anymore.  Suggested yarns are Hikoo Simpliworsted (recommended) as used in the book, or Hikoo Simplicity, the latter will result in a smaller blanket. You can see colours available for all hikoo yarns on skacelknitting.com website.  This is a 13 week class.  $260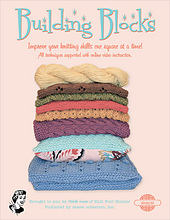 OR Building in Color class with 3 colours and 24 skeins of Hikoo Simplicity if you are a more experienced knitter who wishes to learn colorwork.  This is a 12 week class.  $260.
Building With Lace
Building with Lace is the third class project book from reknowned knitter and teacher, Michelle Purl Hunter. It is a carefully designed sequence of patterns that introduce knitters to lace work starting with the basics and working towards more difficult patterns. This work follows the same format as Michelle€™s earlier books, Building Blocks and Building in Color , and has been a long awaited addition to this educational series.  Video support is offered on her website as well.  This is a 10 week class.$195.
.