about us.
knit on, with confidence and hope, through all crises! Quoting Elizabeth Zimmerman.
WE ENCOURAGE YOU TO KNIT AND CROCHET YOUR WAY THROUGH THE CURRENT SITUATION, IT REALLY WILL HELP TO RELIEVE YOUR ANXIETY. YOU CAN BET I AM!
Here is my last 4 days off from the store finishing Alzada shawl knit in 1 cake of Hikoo Simplicity Spray from skacelknitting.com. Check out the colours available there. A quite easy knit (all I can work these days, considering I have to binge watch the "plug in drug" while I am knitting.
Have you searched for slipper soles you can attach to your cozy knitted and crochetted slippers? Coming soon, these come in all sizes, and are priced realistically in Canadian $$. Let me know if you want them, and I will order them right away.
Our new shipment of Colour Adventures Dia Sock came in! Use for socks, shawls, 420 meters makes a fab baby sweater!
We have been open only 3 days a week Tues. to Thursday, but due to the rising numbers of Covid19 in BC lately, please make sure you try calling the store 604-275-1239, before travelling a long way to find us closed. If you need something earlier, call me at 604-307-8402 and we can discuss how we can help you. I am five minutes away, so would be happy to come over or if she happens to be there, you can have our daughter and part timer/shipper Monique hang what you need on the doorknob front or back, or bring it out for you. Just call her @ 604-275-3894 with your credit card info. Our classes are currently on hold.
You can see most of what we carry on skacelknitting.com, as we distribute their yarns from Schoppel and Zitron in Europe, and their own growing line of Hikoo. We also get from them most of what "Addi" (established in 1829) produces in Germany, in knitting and crochet needles and accessories, and we distribute those to stores across Canada.
Coming soon from Skacel, an addition to the wonderful line of Hikoo Sueno (Formerly Frog Tree Pediboo) merino, Bamboo and is a tweedy effect, starting with these colours.
And, a very textured Hikoo Bubble Tea, merino, acrylic and nylon. Can't wait! My current fave denimy look. Started the cowl on right, will post a pic when done. Twice as nice cowl in Hikoo Bubble tea, denim and Schoppel Zauberball Cotton Crazy.
WE ALSO HAVE STOCK OF COLOUR ADVENTURES DIA SOCK AND SWEET MERINO DK, JAMES BRETT MARBLE CHUNKY with 12 more colours coming, Hayfield Bonus Aran with Wool (400g, 840m) of lovely blanket weight yarn) a ladies vest takes 1! Punta Fuego in every colour
new to us this 100% merino is produced in South America
Manos del Uruguay Franca in 3 gorgeous colours,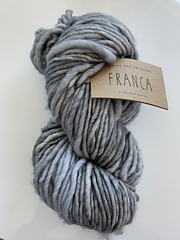 menhir
AND Malabrigo CARACOL, HANDMAIDEN WISP, DONEGAL TWEED, PAPATYA CAKE, Papatya Batik, DROPS KID SILK, ROWAN FELTED TWEED, SIRDAR SNUGGLY DK AND CROFTER, Drops Baby Merino, HAYFIELD BLOSSOM DK, lots of ESTELLE SUDZ DISHCLOTH YARN, AND SOME NORO SOCK & LACE. We have put together lots of kits for those of you who were lucky enough to get our gift certificates for Christmas.
coming from Nordic yarns, Drops Wish
Content: 50% Alpaca, 33% Cotton, 17% Wool
Length: 70m
Needle Size: 9mm
Tension: 10 sts
Pack: 20 x 50g ball
A beautiful and chunky blown yarn made from a combination of baby alpaca, merino wool and pima cotton. Wish is soft, fluffy and absolutely itch-free, 70m, 9mm 10sts/4". See colours coming soon available at nordicyarnimports.com.
Please call Diane at 604-307-8402 if you want to pick something up specific during our previous open hours (All day Saturday, Sunday, or Monday and Friday mornings). Check out what's new on our blog pages! Click on Diane's blog. See us on Facebook at https://www.facebook.com/Wool-and-Wicker-127684623950112/
We have all the Rowan Felted Tweed colours for this gorgeous Kaffe Fassett masterpiece cover of Vogue Knitting Late Winter 2020. Order @ 604-275-1239 or tollfree long distance @ 1-877-966-5945.
New Hikoo yarn! This is Popcycle, made from recycled plastic bottles! Already 71 projects on Ravelry!! Want to try? Let us know, and we will bring in for you. Can.$18/skein/100g/279m. pattern below available on Ravelry. New line of colours coming up
Hannah Mann's popular design
3-5 skeins

"Vindauga" pattern, long or crop.
James Cox pattern, "Patty" in A Truly Amazing Yarn
Get ready for a delightful surprise. HiKoo's new Popcycle yarn is 50% bamboo and 50% recycled plastic bottles. Each hank recycles 2 bottles. The result is a beautiful, subtle tweed that is very strong but also very soft. This fingering weight is ideal for cool summer knitting. So, I created Patty, a sturdy backpack that stretches to accommodate your knitting project, a summer reading novel, sunglasses, sunscreen, phone, and a yummy snack. This pattern takes two hanks, which means four plastic bottles. Isn't that amazing? go to contact@jamescoxknits.com to purchase kits for his popcycle backpack kit. Tell him I sent you!
James' Knit Notes. When I heard about yarn being made with polyester from recycled plastic bottles, I had mixed feelings. While it was good news that waste was being redirected from landfills to textile mills, I kept thinking about those polyester pant suits my parents wore in the 80s. Then HiKoo introduced me to Popcycle, their new blend of recycled plastic bottles and bamboo. When I saw it I was shocked, because it looked beautiful and felt wonderful in my hands. Then I discovered, to my amazement, there are two plastic bottles in each hank of yarn. After trying to avoid plastic bottles and packaging for years, this came as welcomed news.
So, I looked up the facts. Supplying the plastic bottles that Americans consume each year requires 47 million barrels of oil and releases one billion pounds of CO2 into the atmosphere. By contrast, one million plastic bottles recycled saves 250 barrels of oil and eliminates 180 metric tons of CO2 emissions. Plus, recycling plastic bottles takes 8 times less energy than what is required to produce an equivalent quantity of new ones. I immediately bought Popcycle yarn and designed my Patty backpack project. Perhaps the most rewarding knitting project I have ever completed. Now I'm making a sweater and looking forward to wearing 20 plastic bottles on my back, with pleasure. — Cheers, James

knit on, with confidence and hope, through all crises!
WE ENCOURAGE YOU TO KNIT AND CROCHET YOUR WAY THROUGH THE CURRENT SITUATION, IT REALLY WILL HELP TO RELIEVE YOUR ANXIETY. YOU CAN BET I'M GOING TO BE!
Wool & Wicker is a yarn and basket retail store that has been open since May 1998 in the historic fishing village of Steveston, a community in Richmond, BC, Canada. We offer the beginner and passionate knitter a wide variety of yarns for all tastes and budgets. We carry yarns by many different manufacturers in all weights and fibers for knitting, crochet and weaving projects. To see the lines we carry, and prices, go to our yarns section. Extensive selection of old and new knitting books and magazines, lanternmoon.com, and some decorator baskets, "Skacel's" (skacelknitting.com), Addi Turbo knitting needles in all sizes and styles, Addi Turbo Clicks, Addi Turbo Rockets, the new Rocket2 (squared) Addi Bamboo Natura Clicks, and Addi Lace Clicks and Long Lace (all interchangeable needles in a case) and their additional needle tips, a set of crochet hooks which can connect to the click cords and be used for tunisian crochet or knitting needle one end and hook the other, all Addi accessories, and their Zitron, Schoppel, and Hikoo yarns, Anadiomena from Ravelry's patterns and Colour Adventures yarns now dyed by A Twist of Yarn in Vernon, Clover knitting accessories, Eucalan, Skacel's Blue Moon and Renaissance buttons, Fiber Trends patterns, Cat Bordhi Books (New Pathways softcover), Rowan and Kim Hargreaves knitting pattern books,Sirdar knitting patterns and booklets, Churchmouse Patterns, Schoppel Artfelt Fibers, a line of locally made all natural wool Padraig slippers, from newborn to xlarge mens www.padraigcottage.ca shawl pins, and many other knitting needs, lots of our best selling Hikoo Cobasi in all 3 weights, Simplicity, the new Simplicity spray and Simpliworsted Spray, Caribou, plus Schoppels Zauberball, Crazy, Starke 6, Lace weights, and many of the Zitron yarns, like Trekking, Ambiente, and Unisono, and the new Yak, and Feinheit. Brett Marble Chunky, Hayfield Blossom dk, and Baby Changes, Snuggly dk and Baby Crofter, Malabrigo Rasta, Caracol.
Check out our classes, which are ongoing, and currently are taking place Wednesday nights, Friday mornings, Saturday afternoons, and we have Monday and Tuesday nights available as well. Get some friends together and come and join our wonderful teacher and learn new techniques with other like minded folk! You don't have to learn and knit alone!
We do mail order. We also offer a wide range of group classes. While you are here, become a "Passion Knitter's Club" card carrier, and accumulate purchases for discounts and a once a year draw for a $50 gift certificate for the store.
The store is located in Steveston, a nostalgic refuge and historic fishing village in the southwest corner of Richmond, twenty minutes from the Vancouver airport, on the Gulf of Georgia. Take No.1 Road south of Steveston Highway, turn right at Chatham and then left on Second Avenue. We are halfway down the block on the right hand side. Look for the painted scene window. Park behind building if no space available. Leave yourself time to visit the fresh fish dock, the local park and playground, and shop the unique gift, book, toy and fashion stores, or tour the Gulf of Georgia Cannery. Try great eats at one of our 96 wonderful food venues, and wear off the calories with a stroll around Garry Point Park to watch the sunset, the kite flyers and the boats along the Fraser River. Be sure to take in the Farmers and Artisan's Market every other Sunday from 11-4PM from May until october. For more info see www.sfam.ca.
YES, WE DO MAIL ORDER! TO ORDER SOMETHING: EMAIL dianedebray@shaw.ca or
Call the Wool & Wicker toll free Can./US# 1-877-966-5945 or locally, 604-275-1239, and give your order to a real person, or leave your message, and we can mail anything to you, and take your Mastercard, Visa or money order. Satisfaction guaranteed!